BONDIC is the wordwide first innovative UV repair system with light-curing plastic!
BONDIC works, where normal adhesive failed! It is not a glue!
BONDIC repairs, fix, models, connects – even small things!
BONDIC works with any material: plastic (not suitable for polythylene), wood, metal, and even fabric!
BONDIC is fast: fill and layer, cure with the UV ligt – ready in only 4 - 5 seconds!
BONDIC works for years and does not dry out!
BONDIC – Many uses
Bondic - the UV repair system with a variety of uses! Bondic can be used in many ways in the household, in the workshop, in the creative sector or in model making. FIXED IN SECONDS.
1. PREPARATION The breakage must be clean, grease free, e.g. with rubbing alcohol and roughened best.
2. APPLY Apply Bondic and align the construction.
3. HARDENING Harden the Bondic with the help of the LED lamp (3-8 seconds, Bondic hardens only under UV light).
4. MODELING For larger volume constructions, apply Bondic in layers. (The thickness of a layer is about 1-1.5 mm)
5. DONE After use, close the Bondic Pen and store in the metal box, protected from light. Bondic is solvent-free, so it does not dry out.
One application for Bondic, for example, is a broken temples. First, the break point should be cleaned with degreasing cleaning alcohol. Bondic is then applied layer by layer and each layer cured with the Bondic LED until the desired strength and stability is achieved. By fixing with the UV-LED, the plastic is cured in a few moments, the glasses are immediately ready for use and the break point can be loaded normally.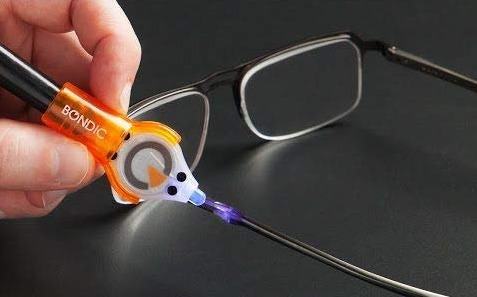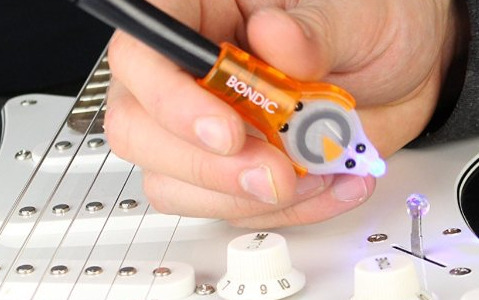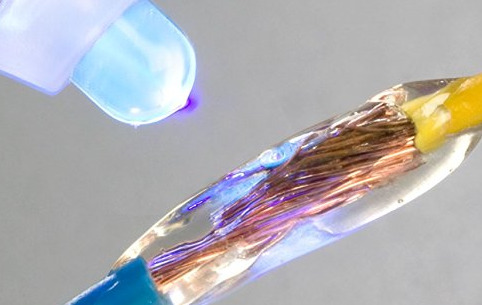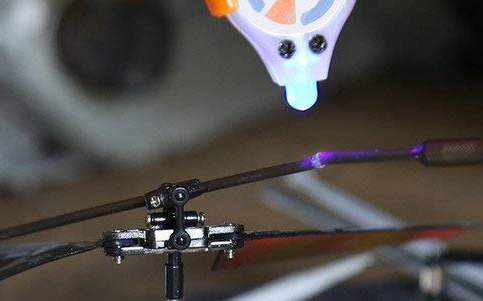 BONDIC LIVE